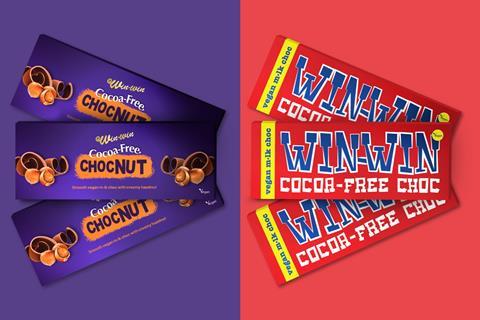 Cadbury, Tony's Chocolonely and Terry's bigwigs may want to call their lawyers, after food tech company WNWN unveiled vegan lookalikes of their iconic chocolate bars.
With packaging "inspired by" some of the UK's most popular chocolate brands, the so-called Win-Win bars are vegan and cocoa-free. The three variants – Choc Nut, Choc Orange, and Vegan M*lk Choc (all £5/48g) – are now available to pre-order from WNWN's webstore, launching officially on the site next week to UK customers only.
WNWN said it had used "cutting-edge science" to convert vegetable fat, carob, oats and barley into its cocoa-free chocolate alternative.
Each bar is palm oil-free and packaged in a compostable wrapper and cardboard sleeve.
"We've reimagined classic chocolate bars by giving them an ethical, sustainable, and cocoa-free twist," said WNWN CEO Ahrum Pak.
"While they have a far smaller environmental impact, and they don't rely on unfair labour practices like the originals they were inspired by, they are every bit as delicious."
WNWN Food Labs is a London-based food tech company founded by Pak, a former banker and management consultant, and "leading global expert" on fermentation technology Dr Johnny Drain in 2021.
In February, it secured $5.6m (£4.5m) investment in a Series A funding round to scale up its manufacturing and bring branded products to retail.
The round, led by PeakBridge VC, saw WNWN secure funding from FoodLabs, Martin Braun-Gruppe, Mustard Seed Maze, PINC, Investbridge AgriTech, and HackCapital.
Hanover-based B2B bakery supplier Martin Braun-Gruppe has already begun trialling WNWN's cocoa-free chocolate in its products. It showcased what it claimed was the "world's first" cocoa-free chocolate croissant at Munich trade show IBA this week 2023 (22-26 October).
In London, WNWN held two events at Fortnum & Mason's flagship Piccadilly store last month (28 September), as part of the retailer's Harvest Week, with the aim of explaining how its tech could help build a more resilient and sustainable food system in the face of climate change.
Drain told The Grocer the lookalike bars were "absolutely not" a publicity stunt.
"This is a serious, albeit limited-edition, product launch. We hope with these products to shine a light on what really goes into your favourite chocolate bar," he said.
While these initial, limited-edition DTC launches came at a premium, WNWN would endeavour to bring its prices in line with conventional bars, Drain added.
"These products are one of a kind. You can walk into any supermarket in the world and buy a chocolate bar, the production of which is only possible thanks to slave labour, child labour and deforestation.
"What you can't do is walk in and buy a cocoa-free choc bar, free of all those issues. We're on a journey to change that – it will take time.
"Ultimately, and with our bigger launches, the bars will be the same price as conventional chocolate, but in the meantime, we think the modest premium is worth it."
Nicola Matthews, Tony's Chocolonely UK&I head of marketing, said: "It's flattering that WNWN have chosen to copy our 2021 Sweet Solution campaign. Although, it sounds like we are on different missions.
"Tony's Chocolonely exists to make cocoa 100% exploitation-free. Rather than avoiding cocoa, we deliberately source from Ghana and Côte d'Ivoire, where the problems in the cocoa industry are worst, so we can solve them.
"Tony's Chocolonely is 100% deforestation-free, has been 100% carbon neutral since 2019, and has proven our sourcing model reduces child labour prevalence on cocoa farms in West Africa from 46.5% (industry average) to 4.4%," Matthews added.
Cadbury owner Mondelez declined to comment, while Terry's had not responded to requests by the time of writing.