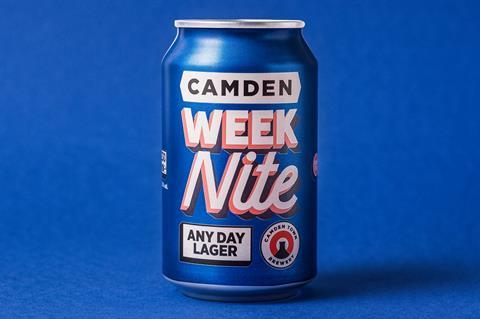 Camden Town Brewery has moved to tap the 'light beer' trend with a new core lager.
Week Nite Any Day Lager rings in at just 3% abv, and is billed by the brand as "a perfect post-work alternative to higher abv beers or alcohol-free options".
It is made with American Centennial and Cascade Hops.
The brew has rolled into Tesco (rsp: £6/4x330ml).
This isn't the first foray into lighter beers for Camden. In September 2018 it swapped its 6.2% abv India Hells Lager for the 5.8% Show Off Juicy Lager, with Camden's sales director Adam Keary stating at the time the stronger beer "felt dark and edgy".
Camden's parent company Budweiser Brewing Co (formerly AB InBev) has been instrumental in the rise of 'light' beers in the UK: it launched Bud Light in the UK in 2017, and more recently brought US light beer brand Michelob Ultra to the UK in slimline cans designed to lure more health-conscious shoppers.