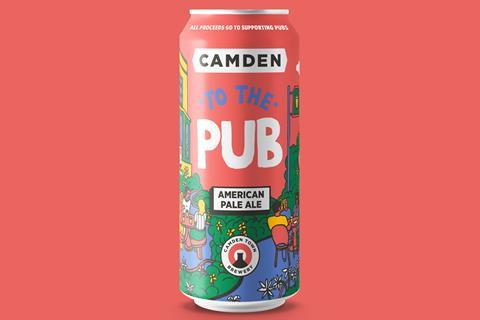 Camden Town Brewery has unveiled a beer that celebrates the pub industry.
Called To The Pub (4% abv), it is an American pale ale brewed with California Ale Yeast – billed as "hoppy and aromatic" with citrus, fruity and tropical flavours and an amber colour.
The APA will launch online from 26 June (£13/6x500ml) before hitting Whole Foods Market and Ocado in July (rsp: £9/4x500ml).
All proceeds will go towards funding production of To The Pub kegs, which will be donated to pubs when they reopen.
Camden Town Brewery has pledged to give 260,000 pints to its on-trade customers to "help them get back on their feet as quickly as possible" the business said.
It had experienced "healthy growth" of sales in the off-trade and via its web shop during lockdown, and "wanted to leverage those channels as a way to support the on-trade".
Camden Town Brewery MD Adam Keary said the on-trade was "extremely important" to the supplier, making up 85% of its total volume.
Pubs were the brewer's "natural home" he added. "We want to do all we can to support our customers."