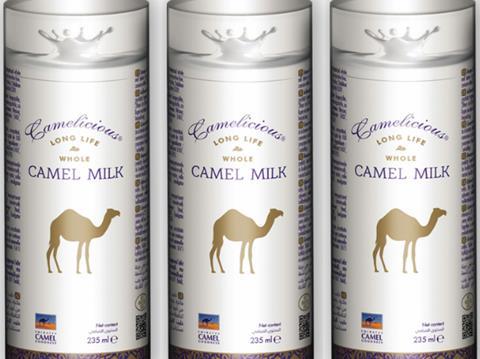 Camel milk could be set to go mainstream after Camelicious, a brand owned by the ruler of Dubai, launched in the UK with listings in Asda.
The first Camelicious product to hit Asda shelves was a UHT long life milk (rsp: £2.85/235ml), which rolled into 141 Asda stores at the end of October.
The brand also produces camel milk ice cream in flavours including date and pistachio, which it is hoping to export to the UK in time for next summer, said Faiza Akmal, sales consultant at distributor Damasgate.

"Camel milk is seen as a luxury product - a rich man's drink - in the Middle East and Somalia," she said. "But we're now hoping to bring it to the mainstream."
"A few years ago it was acai and goji berries, now camel milk is the new super drink," added Akmal. He also said the lactose contained in camel milk was easier to digest than that in cow's milk.

An advertising campaign on Islamic satellite channel Islam Channel is supporting the product launch, added Akmal. However, the brand was also hoping to branch beyond the ethnic market, citing the health benefits associated with camel milk.

Produced by more than 5,500 camels owned by H.H. Sheikh Mohammed bin Rashid Al Maktoum, vice president and prime minister of the UAE and ruler of Dubai, the milk is processed in Vienna before transport to the UK.