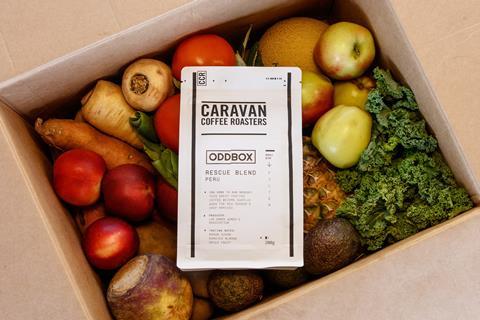 Caravan Coffee Roasters has teamed up with Oddbox to launch a lineup of "waste-fighting" coffee.
Called Rescue Blend, the NPD comprises 'past crop coffee' – meaning the coffee remaining from a previous crop when a fresh harvest arrives.
Older crops, which typically go to waste, have been salvaged by Caravan to create two bespoke blends.
"While coffee in its raw form doesn't technically go off, there are flavour differences in those which are enjoyed many months or years [after harvest]," said Caravan head of coffee Andrea Otte.
"By enjoying this Oddbox Rescue Blend, you're helping to ensure each and every bean gets enjoyed, keeping us all caffeinated in good conscience," Otte added.
A 200g pack of Rescue Blend – available as whole beans or ground coffee – is available from Oddbox until 28 March for £6.
It comes after the wonky veg delivery service last month smashed a multimillion-pound crowdfunding target to help step up its fight against food waste in the UK.
"Our aim is to save 90,000 tonnes of food from waste over the next five years and this round is significant in helping us achieve that," said co-founder and CEO Emilie Vanpoperinghe at the time.
"It will also help us reach more people with a broader range of products to suit each person's lifestyle."