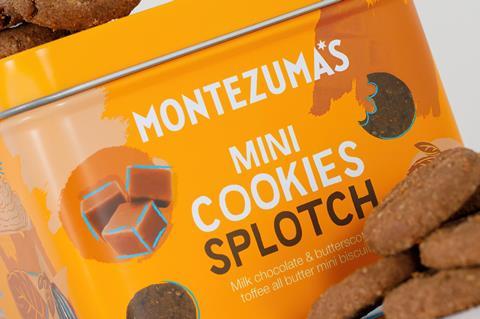 Premium chocolatier Montezuma's has expanded beyond its confectionery heartland with Mini Cookies – its first launch since being rescued from administration in the summer.
The new range comprises Black Forest, based on the dark chocolate and cherry gateau of the same name, and Splotch, which features milk chocolate chips and butterscotch-flavoured toffee.
Based on two of Montezuma's long-standing chocolate bars, both all-butter biscuit variants are available now in a brightly coloured tin (rsp: £12/200g) from the brand's website and Amazon.
The result of about a year's development, Mini Cookies is Montezuma's first foray beyond posh chocolate bars, buttons and truffles.
"We are absolutely delighted to be expanding our portfolio of delicious treats," said brand co-founder & joint MD Helen Pattinson. "The world of biscuits and cookies has been something we have long wanted to try our hand at."
Montezuma's wanted to provide shoppers "with something that could be dunked in tea and coffee, but that was altogether more indulgent than the traditional English biscuit", she added.
The launch comes after Montezuma's was rescued by Paramount Retail Group in June, with the brand – previously owned by private equity player Inverleith – understood to have been bought from administration in a pre-pack deal.
Following the acquisition, Montezuma's founders, Helen and Simon Pattinson, rejoined the loss-making brand – which also runs seven shops in the south of the UK – as joint MDs.
In a company statement, Paramount said the couple would "focus on getting the business back to profitability and ensuring the values are at the forefront of everything the business does".