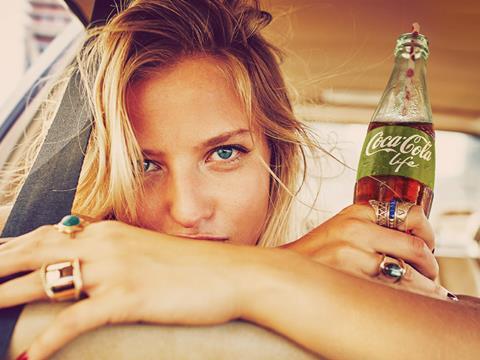 Coca-Cola is changing the recipe of Coke Life after admitting half of consumers don't understand what the product is, The Grocer can reveal.
The reformulation comes after sales of the stevia-sweetened 'mid-calorie' cola crashed 60.5% in the final four months of 2015, a year-on-year decline of £7m [IRI 16 w/e 3 January 2016]. The reformulated Coke Life will contain 15% less sugar than the original launched in summer 2014, and will hit stores in April.
"Coke Life can and should be bigger than it is today," said Leendert den Hollander, general manager of Coke's UK bottler and distributor, Coca-Cola Enterprises. "Will Coke Life ever be as big as Diet Coke? I would say no, but it will play a part in our portfolio."
Full-year sales of Coke Life, which first rolled out in July 2014, hit £20.8m in 2015, making it the only major Coke variant in growth. Standard, Diet and Zero variants lost £42m combined [IRI].
But in August, sales of Life began to crash too and the variant suffered heavy losses every month for the rest of the year.
Den Hollander put Life's slump down to the "fantastic trade support" it was given in 2014, and this having tailed off last year. Many drinkers do not understand that Life currently contains 33% less sugar than standard Coke and is sweetened using stevia, he added. The new version will have 45% less sugar than standard Coke.
"There's an opportunity to be more explicit in our communication on pack about this," said den Hollander. "There's a vast array of consumers who don't know yet what Coke Life is. Around 50% still don't know that Coke Zero means zero sugar. I would suggest it's about the same with Coke Life."
To end the confusion, Coca-Cola this week announced the global extension of the 'one brand' marketing strategy it kicked off in the UK last March. The new Taste the Feeling campaign will for the first time see Coke, Diet Coke and Coke Zero appear together in ads across the world. Life will appear in the ads in countries where it is available.
This month, Coke Zero Cherry is rolling into stores in 330ml cans and 500ml PET bottles for the first time, after sales in larger formats jumped by over a fifth last year. Zero currently accounts for 7.9% of Coke's value in UK grocery. Zero sales fell 1.1% on volumes up 2.5% last year, while rival Pepsi Max delivered growth of 11.9% on volumes up 10.7% [IRI].