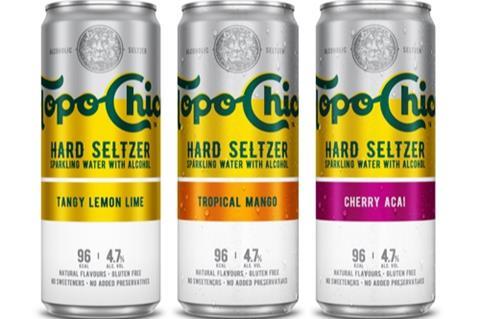 Coca-Cola is making its debut in the UK booze market with hard seltzer brand Topo Chico.
The soft drinks giant's first foray into alcohol is a blend of sparkling water with alcohol and natural flavours, and is billed as being inspired by American sparkling mineral water brand Topo Chico, which is popular with bartenders and mixologists in the US.
There has been much speculation around a potential entry into the alcohol market for Coca-Cola this year – Coke declined to comment when asked by The Grocer earlier this year if it planned to bring Topo Chico to the UK.
Coca-Cola GB & Ireland general manager Jon Woods said Coke was "excited about this launch and the possibilities for this brand".
"We are confident that we have a fantastic product in Topo Chico Hard Seltzer in a dynamic new category. With the strength of our system behind it, we believe Topo Chico Hard Seltzer will flourish and more importantly, offer the consumer something new and delicious."
Topo Chico will roll out in November with three flavours in 330ml cans: Tangy Lemon Lime, Tropical Mango and Cherry Acai. The drinks are all 4.7% abv, gluten-free, and contain 2g of sugar.
And there are signs Coke's UK booze offer could span more than just hard seltzer, too: in June it applied to register the trademark 'EH Canning' with the Intellectual Property Office.
It has been steadily pushing to become what it calls a 'Total Beverage Company' over past years, rolling out a slew of NPD across categories in which it formerly did not play.
Yet it comes as alcohol suppliers are conversely eyeing the non-alcoholic drinks market. Molson Coors and Carlsberg, for instance, have recently set their sights on Coca-Cola's heartlands with plans for their own hard seltzers and soft drinks.
Read more: can Carlsberg pull off a shift to becoming a 'total beverage' supplier?