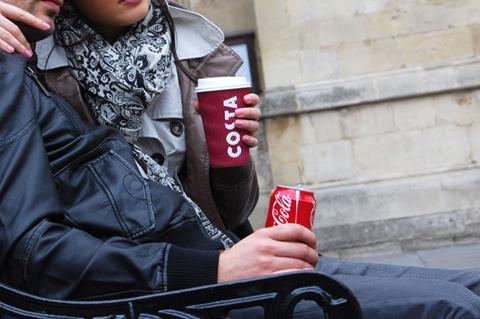 The Coca-Cola Company is staying tight-lipped about plans for its first Costa Coffee RTDs – in spite of CEO James Quincey this week teasing an impending launch.
Having completed its £3.9bn acquisition of Costa in January, Coca-Cola had "spent the first three months ensuring the transition from Whitbread went smoothly while building connections within our existing business units. And Costa is performing in line with expectations," said Quincey during an earnings call on Tuesday (23 April).
"As we look to the second quarter, we'll be launching our first ready-to-drink Costa products. Expect to hear more about that in the weeks ahead."
Initial rollout would most likely "be concentrated in the markets where Costa already is, and we'll be coming up with that later in the second quarter," Quincey added.
However, the soft drinks giant would not be drawn today on the details. "We are constantly looking at the potential of new products to meet the changing needs of our consumers in Great Britain as we evolve to become a total drinks company," said a spokeswoman for the company.
"We have recently launched Fuze Tea, a chilled tea; Adez, a plant-based dairy alternative; and chilled coffees under our organic Honest brand. We are excited about the opportunities the acquisition of Costa presents but have no plans to announce at this time."
Nevertheless, it is clear Coke has serious plans to expand and evolve its new coffee chain brand worldwide as part of its 'total beverage' ambitions – which have seen the creation of a new operating group called Global Ventures.
"The goal is to accelerate some of our businesses, like Innocent and Costa Coffee, that have the potential for growth across traditional borders," Quincey told callers on Tuesday.
"While the acquisition of Costa Coffee plays a significant entry point into hot beverages, it's also more than that. Costa is a platform in coffee overall."
Details of how the coffee brand would roll out into "vending and being a beverage partner with beans and machines" would follow later in the year "as we have time to really solidify the expansion plans with the management of Costa", he said.