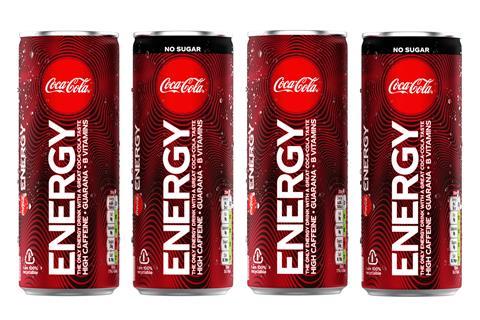 Coca-Cola has fired a shot across the bow of Red Bull with the launch of its own energy drink duo.
It will launch full-sugar and no-sugar versions of Coca-Cola Energy from April, putting it at loggerheads with Red Bull after months of speculation Coke was readying a play.
Billed as offering "a great Coca-Cola taste that people already know and love", the 250ml drinks are made with caffeine from "naturally derived sources", as well as guarana extracts and B vitamins, but without the amino acid taurine, which is a key ingredient in Red Bull.
Coca-Cola general manager for GB & Ireland Jon Woods said the move into energy drinks was part of the business' strategy to "offer people a range of drinks to meet different lifestyles and occasions".
It will be backed by an integrated marketing campaign. Coca-Cola did not disclose an rsp for the new drinks.
News of the company's ambitions to move into energy first made headlines in November last year, when national news reports revealed a dispute between Coca-Cola and Monster, which Coca-Cola distributes and owns a stake in.
A Coca-Cola spokeswoman said at the time there had been a "difference in interpretation" of an agreement between Coca-Cola and Monster that stops the former from making certain types of drinks that would compete with Monster. Coke filed for arbitration, which is still ongoing.
Energy is the latest in an series of launches outside the business's pop heartlands: it last year moved into dairy alternatives with the launch of plant-based juice brand Adez, as well as ice tea with Fuze Tea and on-the-go cold coffee under its Honest Coffee brand.
It has also launched a new canned Coke Plus Coffee brand abroad, which it has said could potentially see a UK launch.