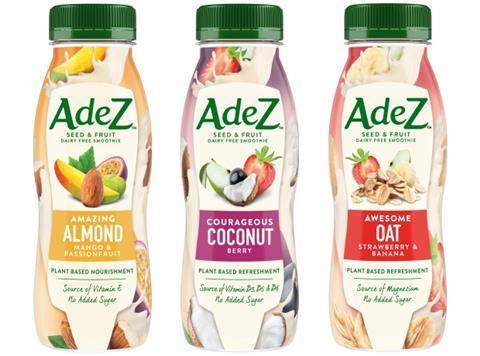 Coca-Cola European Partners is looking to tap into the booming dairy alternatives market with a three-strong range of vegan, dairy-free smoothies.
The soft drinks giant is bringing Latin American brand Adez back to the UK this March, as part of a concerted play by CCEP to grow its presence further in categories other than carbonates. The brand was previously launched as a soya fruit juice by Unilever in the UK in 2006, but withdrawn from the market two years later after it failed to gain traction with shoppers. It was snapped up by Coca Cola in 2016 for a whopping c$575m.
Adez will launch by April in three flavours - Amazing Almond Mango-Passionfruit; Mighty Oat Strawberry-Banana; and Courageous Coconut Berry - in 250ml single-serve bottles, with an eye to being merchandised front of store. They are all below the threshold for the sugar tax.
However, there were no immediate plans to bring out a larger SKU that would sit alongside the likes of Arla, said CCEP customer marketing director Simon Harrison. "If you think about a lot of the other dairy alternatives out there, they are all for pouring, or even the kind of thing you could use in cereals. This isn't that kind of product, so we won't put it in a large PET to start with."
Adez "doesn't have a direct competitor", he stressed. "Smoothies are probably its closest relation, but it's very different because it's plant-based and it's more than just fruit. It has added vitamins and minerals. So it doesn't have a head-to-head competitor, which is part of the appeal. It's a bit of white space for us, but also for our customers."
Sales of dairy alternative drinks have sky-rocketed over past years, with retailers giving increasing space - and in some cases dedicated fixtures - to the category.
"There has been a lot of fantastic work done by other manufacturers in this area," said Harrison. "It is already such a bigger market than people would think. There are a lot of trends happening at the moment that we think this is a great fit for."
It will be backed by a push comprising consumer, digital and PR.
It marks the latest in a swathe of NPD from CCEP, which Harrison said was indicative of Coke's intent to become a "total beverage company" encompassing all non-alcoholic drinks categories - as well as safeguarding itself against the effect of the upcoming sugar tax.
Adez included, CCEP will have brought three new brands to the UK market by the end of the first quarter of 2018. It launched low-calorie ice tea brand Fuze in early January in two flavours, and plans to extend its range of Honest Teas - which it acquired full control of in 2011 - into RTD coffee.
Two Honest Coffee variants, Latte and Mocha, will hit shelves over coming months. They were designed to have more of a bitter, authentic taste than competitors, Harrison said.
It follows hot on the heels of the November launch of Honest Kids, a three-strong range of fruit drinks.
The Honest brand was "a platform for organic products that we are now beginning to scale in Great Britain", Harrison added. "I think there's been a lack of awareness about what organic means. Organic ingredients are harder to come by and more difficult to manufacture from a technical perspective, but as that is changing we are now able to look at where we can expand, and there are three areas we want to - teas, kids' products and now coffee."
Indeed, sales of Honest Kids have already overtaken those of its parent brand in the US, said Harrison. "We think Honest Kids will scale pretty quickly."