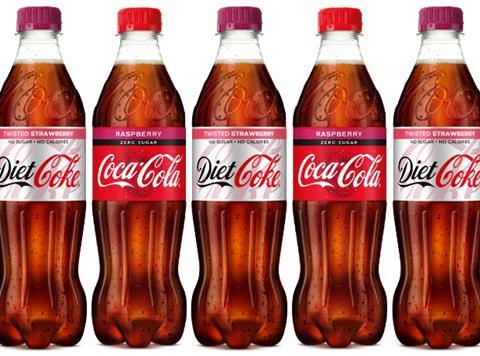 Coca-Cola European Partners has unveiled more fruit variants for its two no-calorie cola lineups, which are to be backed by a £7m spend in 2019.
Diet Coke Twisted Strawberry and Coca-Cola Zero Sugar Raspberry come almost a year after CCEP added Exotic Mango and Feisty Cherry to Diet Coke in February 2018, alongside Peach for Zero Sugar.
The trio were now worth more than £20m, "with almost 60% of these sales incremental to the cola segment" according to the soft drinks giant.
The latest flavours would further cash in "on the popularity of the flavoured cola segment, currently worth almost £190m and in 25% value growth".
They will be supported by a campaign spanning digital, TV, OOH and sampling activity expected to reach more than two million consumers throughout the year.
In 2018, CCEP saw Diet Coke grow sales by 8.7% to £456.6m, while Zero Sugar surged by 38.6% to £187.4m as soft drink suppliers focused on pushing their low and no-sugar offers in light of April's soft drinks levy [Nielsen 52 w/e 8 September 2018].