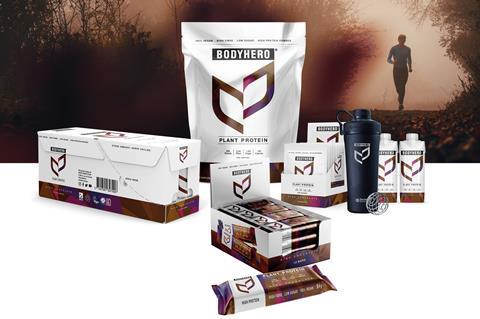 Coldplay bassist Guy Berryman is making his fmcg debut with the launch of plant-based protein brand Bodyhero.
Berryman is to debut the brand in January 2021, launching initially with three SKUs.
It had been seed funded by Berryman alongside investors Phil Brown and Graham Dodridge.
Launching "just in time to help bring in a new, healthy year", it said, the range had been designed to fulfil a gap in the plant-based market for a cleaner, simpler, tastier and easier to access plant-based protein product, said Bodyhero.
Unlike rivals in the market, it said, it was "not only its specialty-crafted attention to taste, but also its carefully curated blend of ingredients from some of the best growing regions in the world".
It will launch three products – Plant-based Rich Chocolate Protein Bars (rsp: £28.99/12x64g), Plant-based Rich Chocolate Protein Powder (£2.50-38.99/32-960g) and Plant-based Rich Chocolate Protein Shakes (rsp: £31.99/12x330ml) – directly through its e-commerce site.
All products contain a consistent 20g pea protein per serving, which is derived from 100% non-GMO Canadian yellow split peas.
The products are also said to contain up to 44% of the recommended daily intake of fibre, as well as naturally occurring BCAAs, glutamine and leucine.
They had been designed to be "as allergen-free as possible", said Bodyhero, and are billed as being premium, 100% natural, clean-label, plant-based, high protein, high fibre and low sugar.