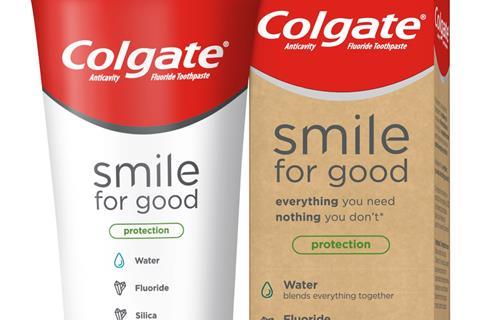 Colgate-Palmolive is aiming to up its sustainability credentials with new Colgate Smile for Good toothpaste in "the first ever" recyclable tube.
Most toothpaste tubes cannot be recycled through conventional means as they are made from aluminium sheets sandwiched between layers of plastic laminate – usually a combination of several plastics.
Smile for Good, however, uses only high-density polyethylene (HDPE), the widely recycled plastic used to make milk bottles. Having previously thought HDPE too rigid for a tradtional toothpaste tube, Colgate "figured out how to combine different grades and thicknesses of HDPE laminate into a tube that meets recycling standards" said the brand. The tube also held up "to the demands of high-speed production, all while remaining comfortably squeezable".
The toothpaste itself, available in Whitening and Protection variants (rsp: £4.99), is certified vegan and made from "just a handful of ingredients that are 99.7% natural" Colgate said. They include silica, glycerine and cellulose gum. Each ingredient is clearly listed on front of pack with its purpose explained – marking another industry first, according to the brand.
Smile for Good follows the launch of Colgate's Bamboo Charcoal Toothbrush, as well as its partnership with TerraCycle, as the brand aims to achieve 100% recyclable packaging by 2025.
The oral care giant wanted "to make tubes a part of the circular economy by keeping this plastic productive and eliminating waste" said Noel Wallace, CEO and president of Colgate-Palmolive.
If we can standardise recyclable tubes among all companies, we all win. We want all toothpaste tubes – and eventually all kinds of tubes – to meet the same third-party recycling standards that we've achieved. We can align on these common standards for tubes and still compete with what's inside them."