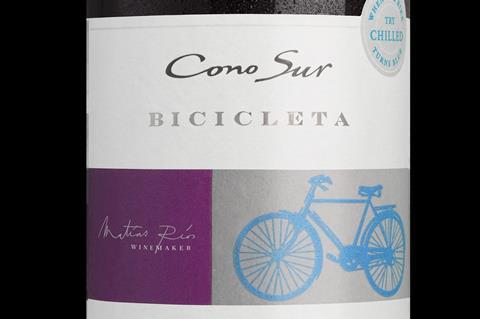 Concha y Toro is trying to challenge the conventional wisdom that red wine should not be served cold with a new heat-changing label for its Cono Sur brand.
Over half a million bottles of the brand's 2018 vintage will roll out with a thermochromic label designed to show "the perfect temperature for a chilled glass of pinot noir" and "dispel the myth that red wine can't be enjoyed in warm summer months".
The brand's bicycle turns from grey to blue after being chilled to indicate that the wine is chilled enough to serve.
"Some savvy wine drinkers already know how enjoyable lighter red wines can be out of the fridge in warm weather," said James Hick, Cono Sur UK marketing manager.
It was "an easy-to-understand, fun and engaging label that you can see working in your hands", he added.
The wine category has spent past years losing shoppers to competitor categories such as gin and prosecco, which are commonly viewed to be more "refreshing", and many large suppliers are now releasing 'spritz' style wine products to capitalise.
Concha y Toro itself last week announced the launch of Ojos, a new canned wine spritz brand, with two SKUs – Chardonnay and Rosé.
The NPD is designed to appeal to under-45s, a demographic among whom wine penetration has significantly dropped over past years, said Concha's commercial director Clare Griffiths.
They were being put off by "the fact that if you open a bottle you've got to drink it all, that it's not refreshing enough, and the fact wine is getting up to 14% sometimes", she said.