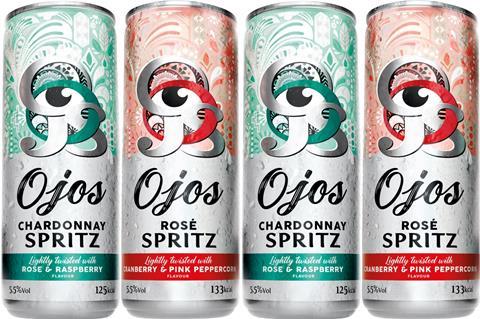 Concha y Toro is making a major foray into canned wine with the launch of a new brand called Ojos.
The brand, whose name means 'eyes' in Spanish, will debut with two SKUs – Rosé Spritz and Chardonnay Spritz (both 5.5% abv) – from 13 May.
The drinks are made by blending Chilean wine with natural flavours such as cranberry and peppercorn, and contain under 133 calories per can. They will roll into Tesco, Asda, Morrisons and convenience stores (rsp: £2/250ml).
Concha y Toro commercial director Clare Griffiths told The Grocer the launch would appeal to under-45s, a demographic among whom wine penetration has significantly dropped over past years. They were being put off by "the fact that if you open a bottle you've got to drink it all, that it's not refreshing enough, and the fact wine is getting up to 14% sometimes", she said.
"We've taken quite a bit of time to make sure the product meets these needs and adds value to the category. We're not doing innovation for innovation's sake and we're really confident about what's in the can."
It comes amid a flurry of activity in canned wine over past months. Numerous fledgling wine brands have made their debut in the format, as well as a small number of big brands like Barefoot.
"Who knows, there could be a whole new fixture given to this," said Griffiths. "The fact more players are coming in means there's more potential to create a new category in itself."
Rebecca Davis, marketing consultant for Concha y Toro, who oversaw the development of Ojos, said: "The qualities people want when they're opening a can are sparkling and refreshing. Still wine is not light and doesn't have that, so consumers are looking at competitor categories like cider, gin and cocktails.
But, she said: "Being able to taste the wine was really important. Consumers still love wine and want wine flavours but lighter. We were careful to get the balance with complementary natural flavours. It's not particularly sweet."
Ojos was one of several ideas put together by Concha y Toro that were put to consumer testing and had received "outstanding scores", she said, adding the business had "tested quite a few flavours in research so we have got a range extension pipeline up and running and ready to go".
The cans are currently being produced by a "reputable production facility" in Germany, but production will switch to Durham-based Greencroft Bottling – which packs all Concha's other products – when Greencroft installs canning production kit in the near future.
The launch will be backed by PR and sampling activity.