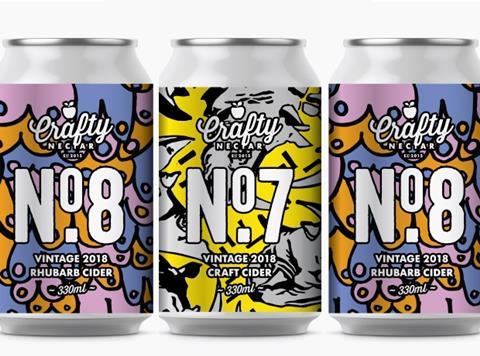 Crafty Nectar has launched what it claims are the world's first "craft-sourced" ciders.
The retailer and cider brand has added the two drinks, called No.7 and No.8 (rsp: £35/12x330ml), after polling its subscriber base as to "what they want in the ultimate craft cider".
No.7 was a "medium, mellow and sparkling apple cider", said Crafty Nectar, while No.8, a rhubarb cider, was "sweet and sour" with "a tart edge".
No.7 is available via Crafty Nectar's website, and is also launching into The Stable pizza chain. No.8's release date is yet to be confirmed.
Crafty Nectar founders Ed Calvert and James Waddington had "listened to their subscribers, making small and slight adjustments as they went along so that their craft cider captured what the people wanted" said the business. "Craft-sourcing cider is not about two founders tasting cider by themselves, basing their changes on what has already been done before. It's about getting the people on board, the true cider lovers, to help perfect the art of craft."
The brand recently made its first move into wholesale with the launch of a 'trade' wing to supply pubs and restaurants, after raising almost £150k through crowdfunding in 2017.