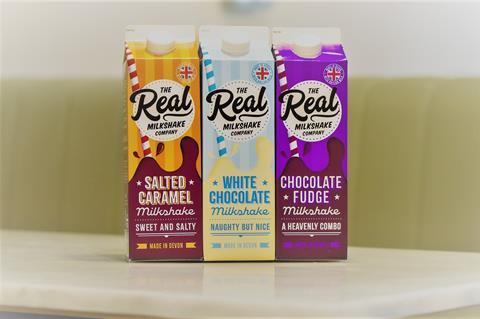 Crediton Dairy has announced a new indulgent milkshake brand to be sold in Morrisons from 14 March.
The Devon-based supplier's The Real Milkshake Company range is designed to be reminiscent of traditional American diner shakes and will be available in three flavours: White Chocolate, Salted Caramel and Chocolate Fudge.
It will be available in one-litre take-home cartons in over 400 Morrisons stores (rsp: £1.75).
"Flavoured milkshakes are still very much at the heart of the dairy drinks category but have been somewhat forgotten in terms of NPD and brands, especially in relation to adult consumers," said Jo Taylor, Crediton Dairy brand manager. "We wanted to put this right by developing a distinctively branded range of authentic, thick and creamy shakes reminiscent of those found in American diners.
"In formulating the shakes we have focused on delivering the same great taste as premium milkshakes but in doing so have ensured that they not only offer consumers great value but also stay within the HFSS guidelines," said Taylor.
Crediton has focused on delivering standout products with "fun and distinctive" pack designs.
The rollout of the brand will be supported by social media and influencer endorsement campaign with Morrisons-specific online and in-store activity. The social media campaign will feature recipes to showcase the flavours.