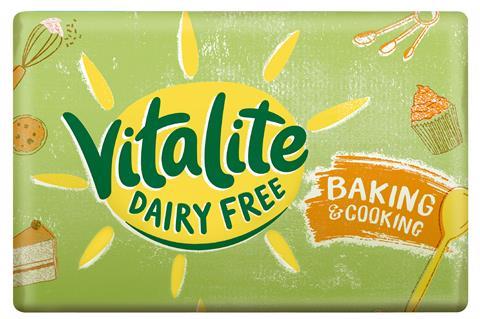 Dairy Crest has expanded its Vitalite dairy-free spread range with the launch of a baking block.
The block goes on sale in Asda on 18 March (rsp: £1/250g), rolling out across further retailers over the coming months.
The supplier said the Vitalite block would appeal to consumers with a dairy intolerance and to the increasing number of consumers adopting free-from products as a lifestyle choice. The launch also had potential to attract consumers not currently buying products for home baking, it added.
Vitalite developed its baking block to deliver better aeration of batters for lighter cakes, alongside firmer biscuit doughs and reduced shrinkage on baking when compared with Vitalite Original Spread.
Coming as 11% of households buy dairy-free spreads, according to Kantar Discounters & Bargain Stores [52 w/e 29 December 2018], Vitalite would capitalise on the growth in dairy-free baking, which has more than doubled since 2015. Almost a third of dairy-free spread sales were for use in baking [IRI SIG Grocers 52 w/e 29 December 2018].
"Contrary to the wider butters and spreads market, which has seen some softening of baking occasions over recent years, dairy-free baking has continued to grow apace," said Dairy Crest's spreads marketing manager Neil Stewart.
"Our research has highlighted that while many dairy-free spreads currently in the market can be used for cooking and baking applications, they don't always deliver the optimal 'bake' that consumers are looking for."