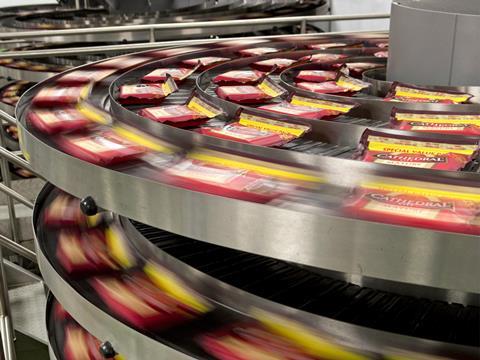 Dairy Crest is gearing up for a raft of innovation, including the launch of a lactose-free Cathedral City cheese lineup to take on Arla's Lactofree range.

Cathedral City's lactose-free range is due to roll out in the next few months as part of the brand's plans to cater for a more "diverse set of consumer needs".

It is also due to expand its Cathedral City snacking cheddar range from October with two new caramelised onion and sweet chilli variants, both of which will feature an "exciting twist" with the inclusion of pumpkin seeds for added texture (rsp: 60p/24g single or £2/4x24g multipack).

"Consumers are increasingly shunning traditional snacking products in favour of lower-sugar, more naturally nutritious alternative," said Cathedral City snacking brand manager Anca Lazar.

"Our research highlighted significant interest from consumers in an extended choice of flavours and textures within our Snack Bar range to bring variety and emotional interest. The refreshed range introduces two new, popular and accessible flavours alongside our original Mature variant, with the addition of pumpkin seeds to add an exciting new texture."
It comes as Dairy Crest plans to launch its first product on to the consumer market under the previously ingredients-focused Promovita brand. Its new gut health 'shot', is made with galacto-oligosaccharide or GOS - the prebiotic derived from lactose.

Promovita was established in 2014 as a 50/50 joint venture between Dairy Crest and Fayrefield Foods to develop GOS for use in infant formula. But Dairy Crest took full ownership in 2015 after investing £20m in production facilities at its Davidstow plant

Meanwhile, Dairy Crest is also readying the launch of a vegan baking block under its Vitalite brand (rsp: £1/250g). Its block was specially formulated to eliminate the "oily" residue left when baking with other dairy-free spreads or coconut oil blocks, while delivering a "creamy texture" and flavour similar to that of baking with butter, said Vitalite brand manager Sophie Simms.

"While consumers are baking less overall over the past year, the trend for dairy-free baking is very much the inverse as baking dairy-free has been popularised by advocates of clean eating, paleo and vegan diets," she added. "We are notably seeing above-average penetration of dairy-free spreads among pre-family and young family households, who also overindex for enjoyment of baking."

The cheese and BSM giant has also created a recipe for its Clover Light with no artificial ingredients, which it hopes can replicate the success of its original Clover spread, which was reformulated with no artificial ingredients in 2015.