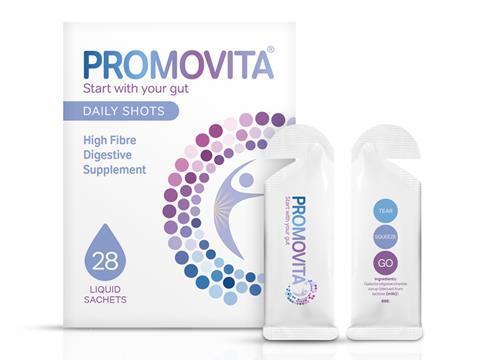 Dairy Crest has unveiled its first consumer product under the Promovita brand – in the form of a prebiotic shot destined to take on the likes of Yakult and Actimel.
The product represents Dairy Crest's first bid to take a chunk out of the burgeoning market for digestive remedies, predicted to hit £333m in the UK by 2021 [Euromonitor].
Yakult and Actimel are both probiotics, which contain live bacteria such as lactobacillus casei, which are beneficial to gut health. As a prebiotic, Promovita contains galacto-oligosaccharides – also known as GOS – an indigestible fibre derived from lactose that ferments in the gut and feeds bacteria including bifidobacteria and lactobacilli.
The ambient liquid sachets will be marketed as a high-fibre digestive supplement, and follow warnings that 90% of consumers ate less fibre than their recommended daily intake. According to the British Nutrition Foundation, the average woman consumed 17.2 of fibre per day and men 20.1g, meaning the majority were well below the recommended average intake for adults of 30g.
Each "naturally sweet" 8g shot provides 5.3g of GOS and 2.6g of fibre. The brand gained its first listing in Ocado from 25 January, while Amazon to follow in stocking the sachets from next month (rsp: £12.99/28x8g).
"There is an increasing body of evidence on the importance of looking after gut bacteria," said Dairy Crest marketing controller Neil Stewart.
"Promovita is a fast, convenient way to help feed good gut bacteria and give us more of the dietary fibre we need. It comes in handy liquid sachets that can be taken anywhere, at any point in the day to easily fit consumers' daily routine, no matter how hectic."
Dairy Crest established Promovita in 2014 as a 50/50 joint venture with Fayrefield Foods, aiming to develop GOS for use in infant formula. Dairy Crest took full ownership in 2015 after investing £20m in production facilities at its Davidstow plant.
Meanwhile, London-based dairy-free probiotic brand Biomel has secured Sainsbury's listings for its two new flavours. The brand is set to roll out a Salted Caramel shot (rsp: £1.20/125ml) and an Almond Natural drink (rsp: £2.90/510ml) this week, adding to its Vanilla, Natural and Dark Chocolate flavoured SKUs.