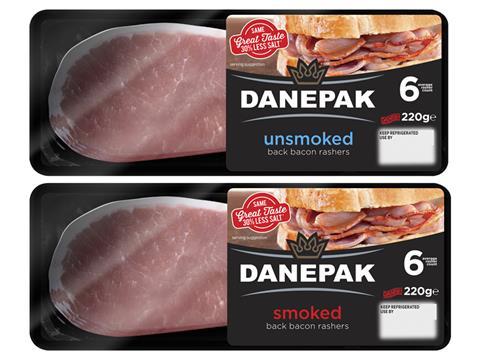 Danepak owner Tulip has claimed an industry first with a new curing process that is being used to reduce the salt content in its bacon by 30%.

The process uses Iposol, developed by a German company of the same name and described as "a solution of water and sea salt." Tulip said using Iposol gave the same flavour as conventionally cured bacon but with less salt.

From next month, 220g six-rasher packs of the brand's smoked and unsmoked bacon will carry a flash stating "Same great taste - 30% less salt". They will be sold in Tesco, The Co-op Group and Booths.

Danepak's new product contains 2% salt compared with the 2.9% and 3.3% previously found in its standard unsmoked and smoked back bacon, respectively. The salt content of own-label bacon at the big four varies widely, from about 2.5% to as much as 4.3%.

Tulip senior brand and licensing manager Simon Harrington said the lower-salt product meant "consumers can rely on Danepak's ability to deliver on quality and taste while offering a healthier alternative to standard bacon.

"Our unique curing process is an industry first and we are excited by the additional sales opportunities our newly developed technology will offer our retail and foodservice customers," he added.

Tulip has appointed London ad agency Isobel and design specialists 1HQ to deliver a relaunch of the Danepak brand later this year, including a redesign of branding and pack formats and a multimillion above and below-the-line campaign.