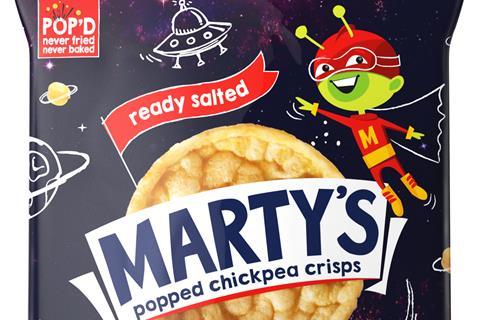 Danone is gearing up for its UK debut in children's ambient snacks with the launch of Marty's – an allergy-friendly brand the supplier claims is a UK first.
Designed for ages three and up, Marty's was "dedicated to helping allergy-impacted children eat, play and socialise in a fun, inclusive and safe way" the French supplier said.
Marty's Popped Chickpea Crisps will roll out to free-from segments on 28 June, made for Danone by Darlington's JLM Global Foods.
Ready Salted, Cheese & Onion and Barbecue (rsp: 75p/20g) have no egg, peanut or gluten. They will go up against Pom-Bear – though KP Snacks' popular gluten-free brand is usually ranged in the bagged snacks aisle.
Popped Chickpea Crisps will be joined in store by Marty's Sorbet in Mango Moon & Passionfruit and Rocket Raspberry flavours (rsp: £3.99/300g).
Free from dairy, gluten, egg and peanuts, the frozen dessert – made in Antwerp by Crème de la Crème – had "the texture of ice cream" said Marty's project founder Tanya Pitchforth. Soya had been considered as a dairy substitute but was rejected given dairy allergies were often accompanied in children by soya allergies, she added.
Pitchforth created Marty's through Danone's Manifesto Innovation Accelerator programme with an undisclosed investment. It was the first kids' brand for the UK's free-from market – and would help allergy-affected youngsters "feel included at treat time" she said.
It began development in early summer 2018, seeking input from children with allergies. Crisps and ice cream emerged as the treats they most wanted to enjoy safely.
The Marty character, a green Martian in a cape, was also created with the help of youngsters – to represent "a parallel universe where they could eat anything and never worry" according to Pitchforth.
With no Danone branding on front of pack, Marty's will be available initially from Ocado and selected independent retailers. As well as other grocers, Danone was looking to move into "uncomfortable channels" she added. These were "the spaces where we're not currently present" such as children's theatres and soft-play areas.
More lines were already planned for the new brand, she said. They would "fit the allergy-friendly brief as well as suit children's imaginations" – and would most likely be suitable for lunchboxes. "We looked at drinks, but they didn't strike the kids so much as a treat."