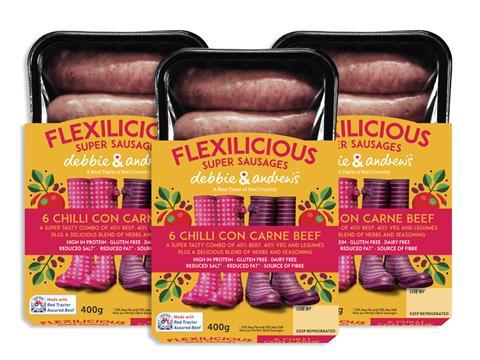 Sausage brand Debbie & Andrew's has jumped on the flexitarian trend with a new sausage product it intends to build into an entire range.

The Flexilicious Chilli Con Carne Super Sausage went on sale in Asda this week (rsp: from £2/400g) and contains 40% British farmed beef and 40% vegetables and legumes.

The sausage was targeted at those who "wish to reduce their meat intake or increase their vegetable consumption", a spokeswoman for the ABP-owned brand said. She added the supplier had plans to expand the range further.

It follows the launch of the Funky Flexitarian brand into Waitrose by sausage supplier Finnebrogue Artisan last November.
Alongside the launch of Flexilicious, Debbie & Andrew's has also debuted a new two-strong Clean and Lean range of high-protein sausages geared towards those who lead active lifestyles.
The chicken variant is being sold through Sainsbury's (rsp: from £2/340g) and the pork version in Asda from £2/400g.
The brand has also added a further two products to its Perfect selection; Little Pork Chipolatas are available in Sainsbury's from £2/375g and Pork Chipolatas are on sale in Morrisons from £1.50/375g.