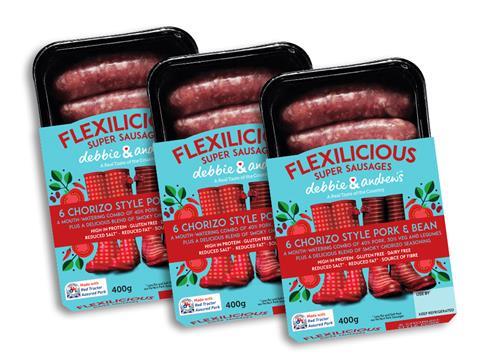 Sausage brand Debbie & Andrew's is expanding its flexitarian sausage range Flexilicious with a new chorizo style pork & bean variant.

The newcomer goes on sale in Asda on 2 April (rsp: TBC/400g) containing a combination of 40% pork, 30% veg, pulses and legumes and a blend of smoky chorizo seasoning.

ABP-owned Debbie & Andrew's launched Flexilicious in January with a chilli con carne variant in a bid to capitalise on the growing flexitarian trend.

The sausages offered an equal balance of meat and vegetables in a succulent "super sausage" that was also gluten, wheat and dairy-free with reduced salt and fat content and increased fibre levels, said a spokesman for the brand.

It delivered "a meaty eat that is succulent but with the extra taste and texture of legumes, pulses and vegetables", he added.
"This reduces the meat consumed, decreases overall fat levels, delivers more fibre and all in a 'free from' sausage," the spokesman said.
"Flexilicious sausages are the perfect halfway house for those who want to eat less meat but still enjoy the simplicity and succulence of a sausage. This range ticks a lot of boxes, tasting great, addressing a number of dietary requirements and providing good value for money for those who look to sausages as an easy but popular meal solution."