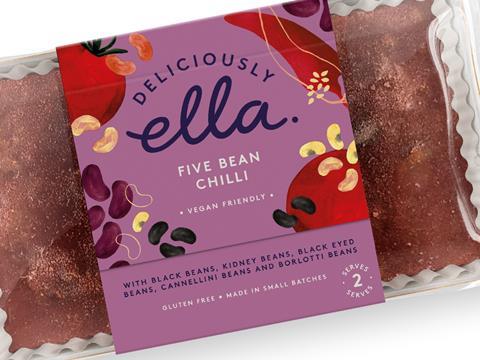 Deliciously Ella is to roll out frozen ready meals as part of its aim to bring plant-based recipes to a variety of categories.
Having already launched energy balls and a cereal lineup, the fast-growing brand is set to land in freezers with five vegan-friendly meals for two. Packed in recyclable paper and plastic, all variants are based on existing Deliciously Ella recipes available via the brand's Mayfair deli, cookbooks or blog.
Sweet Potato & Black Bean Shepherd's Pie, Five Bean Chilli, Thai Yellow Curry, Cauliflower & Lentil Dahl and Spiced Spinach & Potato Cakes will be available from late September at Ocado and Whole Foods Market (rsps: £3.99-£4.99/340g-400g).
The range had been in the planning for about 18 months, said Deliciously Ella founder Ella Mills.
The brand, which entered grocery two years ago, had "always been about" lunch and dinner, so it was "important we moved into that space" she added.
While plant-based eating was in the ascendency, it was often "challenging" for busy shoppers to find convenient options, Mills told The Grocer. "We wanted to create a line of food that made it easier for people." Frozen was "nature's way of preserving" she said. It helped reduce food waste by extending shelf life.
Deliciously Ella's ready meals will be preceded earlier this month by the brand's first breakfast pots. Fruit & Nut Muesli and Bircher Muesli (rsp: £1.49/90g) – both dairy-free – are destined for Sainsbury's, Ocado and Whole Foods Market with "vibrant" new branding.