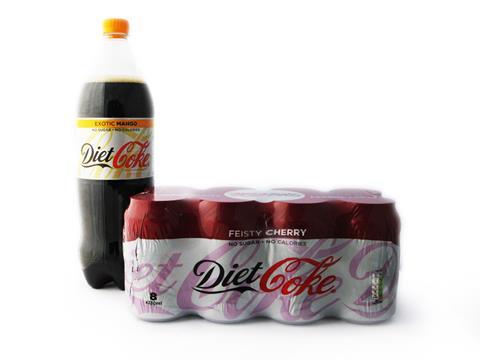 The dramatic Diet Coke revamp unveiled in the US a few weeks ago has started making its way to the UK, with two new Diet Coke flavours now available in Tesco.
Exotic Mango and Feisty Cherry variants have started appearing on shelf in an 8x330ml multipack of cans (£3.50) and a 1.25-litre PET bottle (£1), both bearing fresh designs that add colour to reflect their flavour. Prices are in line with the rest of the Coca-Cola portfolio in Tesco.
The new Diet Coke flavours come after Coca-Cola in the US last month unveiled Twisted Mango, Feisty Cherry, Zesty Blood Orange and Ginger Lime, along with a new look for the zero-calorie brand and the addition of a 'skinny' 12oz can.
The shake-up was the biggest in the soda's 35-year history, and was sparked by "consumer research pointing to younger Americans' affinity for big, yet refreshing and great-tasting, flavours" according to Coke. Sales of light and diet sodas in the US are in decline amid intense debate over the acceptability of artificial sweeteners.
Following the high-profile North American relaunch, Coca Cola European Partners insisted that, in spite of reports, it had "nothing to confirm in the GB market". It was not available immediately to comment today (13 February).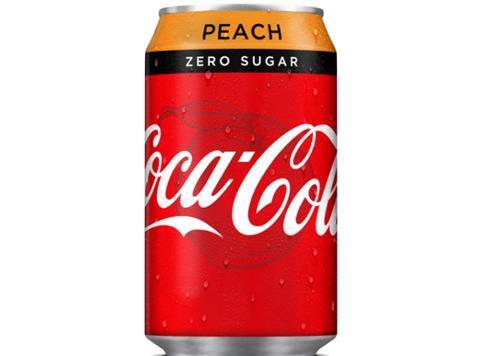 Separately, it appears a peach variant of Coca-Cola Zero Sugar is set to roll out in the UK. A 1.25l bottle appears on the Tesco site, though it is not currently available to buy online or listed in stores [Brand View w/e 13 February 2018].
The revamp follows sliding sales for Diet Coke in the UK, where the soda's value sales are down 0.6% to £420.2m [Nielsen 52 w/e 9 September 2017], as its jostles for shelf space with the likes of Ugly, Dash Water and La Vie – flavoured water challengers offering a healthier alternative to traditional carbonated soft drinks.
However, Zero Sugar has been an enormous success, last year adding an extra £39.3m to the larger Coca-Cola brand [Nielsen].