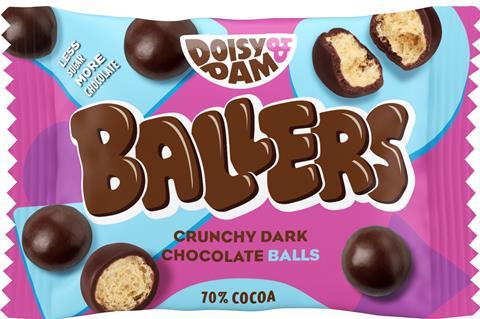 Premium chocolate maker Doisy & Dam has unveiled a range of healthier alternatives to classic chocolate treats.
Rolling exclusively now into 790 Holland & Barrett stores, Ballers, Buttons and D&Ds are made with 70% cocoa dark chocolate – each promising to be "at least 30% lower in sugar than the market leading product". They are vegan and free from palm oil.
Ballers are Malteser-style malted balls covered in single-origin Colombian chocolate, Buttons are a homage to Cadbury Dairy Milk Buttons, and the brightly coloured D&Ds are sugar-coated chocolate beans that resemble M&M's.
All are available in an impulse bag (rsp: £1.35/30g) and a sharing pouch (rsp: £2.50/75g-80g).
Doisy & Dam developed the trio "as a response to the growing demand of consumers who are actively seeking a better, more mindful and ethical style of snacking" it said. "The portfolio expansion demonstrates that we are continuing to spearhead innovation within the impulse premium chocolate category."
The ethical brand is also set to launch its first Easter lineup, comprising Mini Egg-like Good Eggs (rsp: £2/80g) and a £9 shell egg containing two packs of Doisy & Dam Nutter Cups (previously known as Nut Butter Cups). Both will be Holland & Barrett exclusives.
All the new products will feature Doisy & Dam's colourful new look, designed to "a little bit more fun, a little bit more inclusive, and reminiscent of the traditional brands people engage with" according to Doisy & Dam's co-founder Ed Smith.