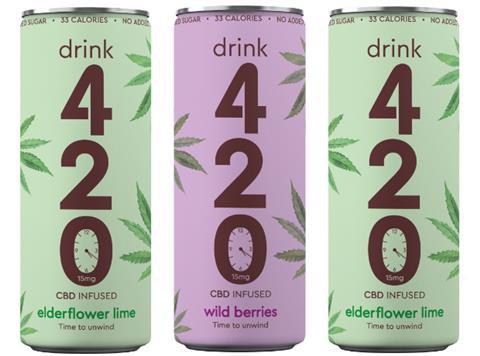 New soft drink brand Drink 420 is set to land in grocery to tap the nascent potable cannabis trend.
Created by Simplee Aloe co-founder Alex Lai, each 250ml can of Drink 420 features 15mg of cannabidiol – the highest content of any CBD-infused drink on the UK market, according to the startup.
The cannabidiol level is almost eight times higher than the 2mg in Botanic Lab's 250ml CBD tea, which made its debut last September claiming to be the UK's first cannabis-infused soft drink.
While Botanic Lab's drink is sold in bars and restaurants, Drink 420's two variants – Wild Berries and Elderflower Lime (rsp: £2.29} – will be available next month from Planet Organic and CLF. They have no added sugar and provide 13 calories per 100ml.
The result of a year's development, the new drinks contain no tetrahydrocannabinol and are therefore not psychoactive, but have been "formulated to reduce pain and promote stress and anxiety relief".
The '420' in the brand's name is cannabis smokers' slang for 'time to get high' – but it was also a reference to the time of the afternoon "to unwind, but without the high" said Lai. He created Drink 420 after taking CBD oil orally in an effort to reduce stress, and "wanted to find a way to consume it in a more convenient, on-the-go format".
CBD drinks were "looking at really promising growth" Lai added. "A recent research report by Brightfield Group estimates the worldwide category size of CBD to be over $22bn [£17.1bn] by 2022, growing at over 132% compound annual growth."
Drink 420's launch comes around four months after drinkable cannabis hit the headlines. Bloomberg reported in September that Coca-Cola was in talks about developing products with Canadian business Aurora Cannabis. Coke told the US media outlet it was "closely watching the growth of non-psychoactive CBD as an ingredient in functional wellness beverages around the world".