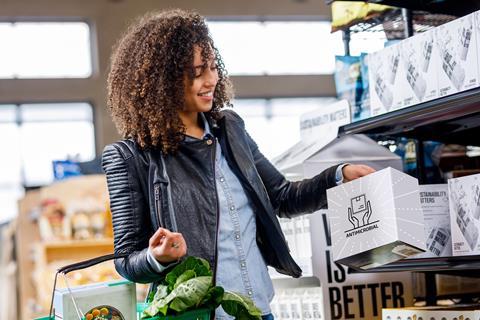 Packaging supplier DS Smith plans to develop a range of bacteria and virus-resistant sustainable cardboard packaging.
The supplier has teamed up with sanitation firm Touchguard to create packs with an anti-microbial coating which kills 99.5% of bacteria and viruses within 15 minutes, elminating "the risk of person-to-person transfer of infections such as MRSA and E.coli", said DS Smith.
While it "would never replace good hygiene practices and due care, this technology has the potential to bring a real and proven additional layer of protection to our customers and their consumers as packaging moves across the supply chain", said DS Smith innovation director Alan Potts.
The firm cited data which suggested six in 10 shoppers now wash their hands thoroughly after touching packaged groceries and household products. More than 30% said they now throw packaging away "more quickly".
"While there is no evidence of virus transfer from cardboard, the easily identifiable touch-safe zones can be applied at scale across a range of industries and applications meaning the anti-viral and anti-bacterial packaging provides an additional layer of protection as consumers and workers throughout the supply chain remain wary," it said.
The new range will be 100% recyclable and "promises to support the sustainable packaging market with potential scope across a variety of areas including e-commerce and food packaging", it added.