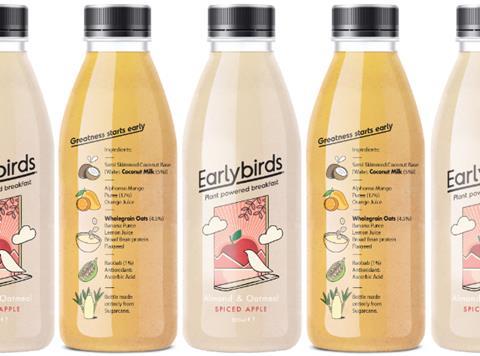 Startup Earlybirds is set to make its grocery debut with what it claims is "Europe's first plant-based breakfast drink in a bottle made entirely from sugarcane".
Two chilled variants with milk alternative bases, bean protein and 'superfood' – Spiced Apple and Mango & Baobab – are scheduled to launch in March, to take on the likes of breakfast drinks by Weetabix, Quaker Oats and Arla.
Made using cold-pressing and high-pressure processing, Earlybirds' drinks (rsp: £2.49/300ml) provide no more than 6g of sugar per 100ml and 76kcals.
The duo comes in a 100% bio-plastic bottle made from sugarcane and sugar beet offcuts. The cost of the packaging was "around double the price of conventional plastic" said brand founder Amrit Hathiramani. However, the London business was "fully absorbing the cost".
To help fund the sustainable bottles, Earlybirds will this week kick off a crowdfunding push on Indiegogo, seeking £12k in exchange for bundles of the brand's products – including a lifetime supply for £2k.
Earlybirds is currently in listings discussions with supermarkets in the UK, Ireland and Nordic countries. The brand hoped to appeal to shoppers "who are missing breakfast, who have almost forgotten all about it, or are being forced into unhealthy choices or substitutes" Hathiramani said.
"Despite a promising start, the RTD breakfast category is now stagnant with no disruptive products hitting the shelves."