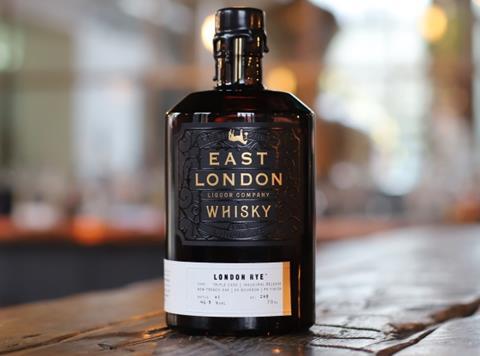 East London Liquor Company has unveiled its first rye whisky.
Only 269 bottles of the 46.8% abv whisky, which has a mash bill of 42% rye and 59% extra pale malted barley, have been made.
The drink was aged in new French oak casks for one year, followed by two years in ex-Bourbon casks, before being finished in ex-Pedro Ximénez sherry casks. It rolled into specialist retailers, the on-trade and the brand's online store this week (rsp: £85/70cl).
London Rye "offers aromas of toffee, coffee, tobacco, dark chocolate, leather, fresh ginger, sarsaparilla and fruit candies", said the brand, with dark chocolate, ripe cherry, stewed apple, tahini and sea salt on the palate.
It was "perfect to drink neat the minute you open the bottle", said ELLC whisky distiller Andy Mooney. "The great thing about producing our whisky in London is that we have a clean slate to be creative. We've put a lot of attention and care into our first release of London Rye - from the char levels of the barrels, to the exact abv of the final product."
ELLC isn't the only distillery making whisky in the capital. London Distillery Co, for instance, unveiled a limited edition rye whisky last month, four years old, aged in English oak barrels and bottled at 54.3% abv. Bimber Distillery, in West London, is due to launch a full range of London single malts next year once its stocks come of age.