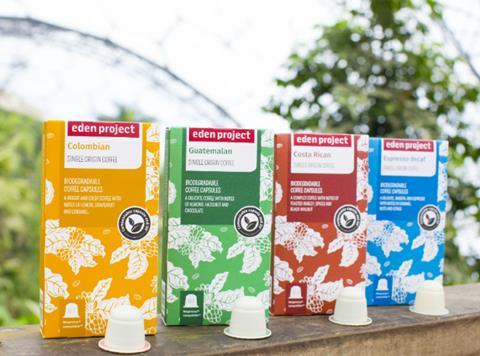 The Eden Project has unveiled a sustainable range of coffee capsules that can be composted at home.
Unlike most other eco-friendly coffee pods, which require industrial intervention to fully decompose, the Eden Project's new pods promise to "break down into simple raw materials in a domestic compost heap in a matter of weeks". This means they will turn into nitrogen, carbon, water and oxygen within 25 weeks at 12 degrees centigrade.
Made from a bio-polymer, the four-strong lineup was "unique and a world first" according to Steven Phelps, commercial director of Fresh Coffee, which produces the range for the Eden Project.
The new pods can be safely disposed of in a domestic compost or food recycling bin, whereas regular coffee capsules – usually made from plastic or aluminium – have to be recycled or end up in landfill.
The quartet of blends – Colombian, Guatemalan, Costa Rican and Italian Espresso Decaffeinated – are compatible with Nespresso coffee machines and have a shelf life of 24 months. The packaging is made from recyclable card printed with vegetable-based inks, meaning "100% of the product is compostable or recyclable" said the Eden Project.
The range is rolling out now to Waitrose in a pack of 10 pods. It would "allow coffee lovers to enjoy delicious ethically sourced coffees without creating additional plastic waste" said Tracey Smith, the Eden Project's commercial manager.