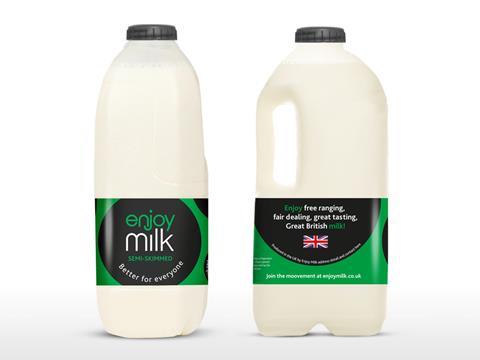 Fledgling free-range milk brand Enjoy Milk is still on track to launch, despite failing to gain any supermarket listings to date, founder Nick Hiscox has insisted.

The brand was in discussions with a major online retailer over a June launch, and also remained confident of being picked up by one of the mults, Hiscox told The Grocer this week, despite conceding many had "taken time to get their head round the concept" of the brand.

"The issue for some retailers has been how to get Enjoy Milk on shelf without undermining standard milk, but my message to them has been there is room for it all," he added.

Enjoy Milk was first unveiled by Hiscox in January. However, he stressed the product was "much more than just a brand" and was instead a movement which "does good" on multiple levels by looking after cows, consumers, farms and the environment.

It hit the headlines around the same time a separate free-range milk brand carrying the Pasture Promise label - Free Range Dairy Farmers - was launched by Oxfordshire-based Highgrove Foods.

Free Range Dairy Farmers was featured in Jamie Oliver's Channel 4 TV show in February, and has since picked up listings in Asda, rising from 190 stores to 367 stores this week.

The dairy industry, processors and retailers had previously struggled to understand the concept of a "single attribute" free-range milk product such as those adhering to the Pasture Promise scheme, Hiscox said. "So it's no wonder we created a head spin with Enjoy Milk and its multiple layers of different," he added.

"We didn't anticipate so many objections from the dairy industry to what we are trying to do," Hiscox said. However, he insisted the brand still had a future, and also planned to introduce 250 milk vending machines across the country this year.