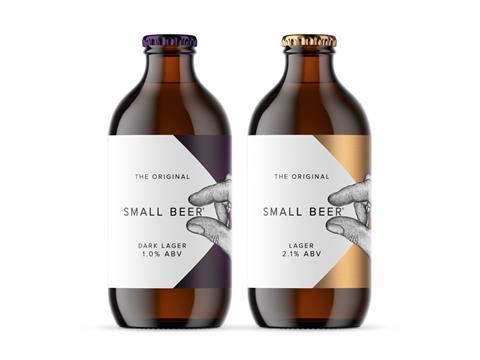 Two Sipsmith gin alumni have unveiled a new 'small beer' brewery in London, with an eye to popularising a style of lower-alcohol brew popular in the 18th century.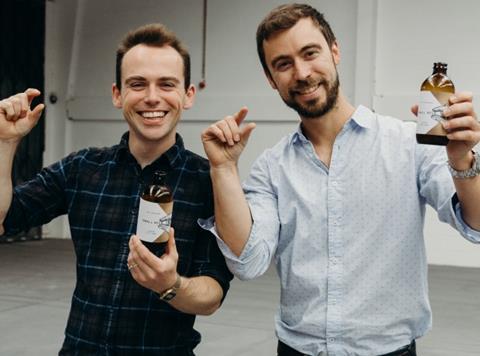 James Grundy and Felix James, previously head of on-trade and head of operations at Sipsmith, have launched The Small Beer Brew Co, billed as the world's first small beer brewery, in London's Bermondsey.
It is set to roll out two beers, a 2.1% abv lager and a 1% abv dark lager, in 'stubby' style 330ml bottles (rsp: £2.85-£2.95) this December.
'Small beer' was historically brewed under 2.8% abv and typically consumed by workmen in the absence of clean drinking water. It is also less calorific than higher-abv brews, with the dark lager billed as containing roughly 25% fewer calories than "a normal beer".
Lower-alcohol beer was "a space that was previously frowned upon, typically due to the meagre flavour profiles of a handful of beers that had dominated the category", said Grundy. "We recognised there was a vast gap in the market missing out high consumer demand. A need plus an opportunity to invent an old craft was highly appealing.
"There was "a very real shift in consumer drinking habits" towards lower-abv drinks", he said. "But we found there was not an option that offered the same flavour experience as a 4.5% to 5% beer."
0.5% abv beers, commonly categorised as non-alcoholic, were not competing on flavour, he added
The pair financed the project with their own savings and the help of private investors. Further NPD would follow over the coming 18 months, said Grundy, with the brand targeting independent retailers and bottle shops.
Small Beer Brew Co is also touting its sustainability credentials on the fact it takes one and a half pints of water to make one small beer, compared with up to 10 pints, for a 'typical' pint.
It was "underpinned by a commitment to high levels of sustainability throughout, from minimal waste levels, through to recycled labelling, and renewable energy powering the brewery".
It comes as sales of low and non-alcoholic beers have boomed over the last year, with Brits knocking back a record 18.2 million litres of the stuff amid a raft of major low and non-alcoholic NPD from major suppliers [Nielsen 52 w/e 15 July 2017].