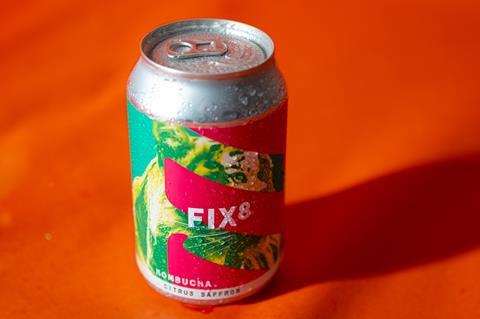 Fix8 Kombucha is launching into cans with an eye to tackling "the barrier of consumption occasion and functionality" in the category.
The brand has launched three flavours – Triple Ginger, Strawberry Tulsi, and Citrus Saffron – into 330ml cans.
This means the drinks now have a longer than average shelf life of 12 months and can be stored at room temperature, which the brand said would enable "distributors and suppliers to store and transport the product more easily, opening up the functionality of the product".
The brand's founder Freya Twigden said the brand wanted to take kombucha "beyond the health food niche and open up the consumption occasion".
"The only way to do that is to enter the wider soft drinks market in a suitable ambient format with a genuinely interesting, flavour-forward adult soft drink that plays with the flavours and complexity that only fermentation can create."
The new cans will roll out online and into wholesalers Wholegood and Eebria in packs of 12 (rsp: £2.50/330ml).