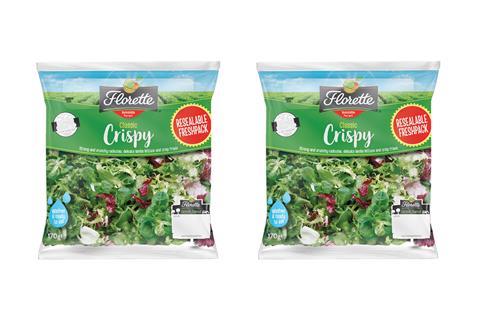 Florette has unveiled a new resealable element on a variant of its salad leaf packs that the brand says will help limit consumer shopping trips during the coronavirus pandemic.
The salad brand's new innovation will see its 170g Classic Crispy packs fitted with a resealable tab at the top of the bag, with the aim of keeping the contents fresh for longer.
It is set to be rolled out across most of the mults, including Tesco and Sainsbury's, from 27 April (rsp: £1.50).
Florette has also announced its entire range will carry a 'Freshness Guarantee' from May, which promises to offer consumers their money back if they are not satisfied with the freshness of the product.
"Ensuring the best quality and freshness possible is always our number one priority and this latest innovation offers a solution by providing the ultimate convenience while keeping the leaves fresh," said marketing controller Hazel Clark.
"At this time when we are being asked to limit trips to supermarkets, we are finding consumers struggling to keep fresh salad and vegetables in the house and maintain a healthy diet. This new innovative pack should help to ensure families can continue to eat healthily while on lockdown."
Speaking of the impact of coronavirus on its operations, Florette said its supply chain "remains stable". It added that while it was uncertain about how much salad it would need to harvest in the coming months, it had planted enough to take it "up to the middle of June".