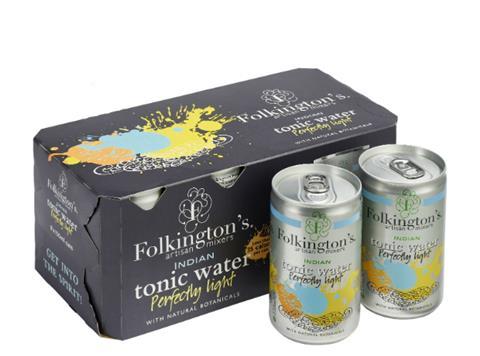 Folkington's has expanded its portfolio of premium mixers with a range of mini cans.

Aimed at complementing the growing trend for artisanal spirits, the Sussex brand's six-strong lineup includes Indian Tonic Water, Dry Ginger Ale, Bitter Lemon, and Lemonade variants created with 'natural botanical extracts' from handpicked citrus and floral plants. Each comes in an eight-pack of 150ml cans (rsp: £4.99).

The NPD intended to have "perfect symbiosis with the many new craft gins and whiskies that have lately entered the market" said Paul Bendit, who founded Folkington's in 2012.

"We are offering the market a very high quality range of mixers in an environmentally kind format that also offers convenience, minimum wastage and competitive pricing," he added.

The launch follows the brand's rollout earlier this year of its Garden range of sparkling pressés in 250ml cans.