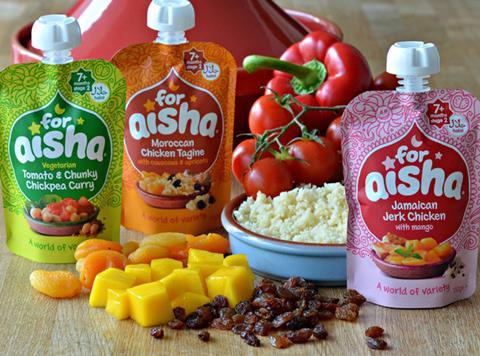 A halal pouched babyfood range is to launch in 300 Asda stores this month.

The For Aisha brand, which comprises six 130g pouched dishes including Jamaican Jerk Chicken with Mango and Moroccan Chicken Tagine with Couscous & Apricots, has also secured listings in Ocado, Boots, Tree of Life and Whole Foods Market. Priced £1.45 in Asda, it is selling at a slight premium to Ella's Kitchen pouches, which are currently £1.39 in the retailer.

For Aisha packaging features colourful, henna-style South Asian patterns and has a matte finish to boost standout. The dishes are manufactured in France and are suitable for children seven months-plus.

The brand has been created by Mark Salter, who has worked for businesses including The One Brand, Annabel Karmel and AB InBev and is engaged to a Muslim woman.

"There aren't many quality halal brands out there, and there is a big opportunity in children's and babyfood," he said, adding the range was not only aimed at Muslim parents.

"When we started asking parents what was important, the overriding message was that they feel guilty about buying babyfood as they would rather cook," said Salter. "They said that if they were going to buy babyfood they wanted to buy something that they couldn't make easily at home so we have come up with recipes such as curries and tagines - complex recipes that aren't usually found in babyfoods."

The brand had a trial launch in 50 Asda stores in the spring, and rolls out nationally from 27 July.

"Asda is ahead of the game in the baby category and can see there is a massive demographic of Muslims who are not being fulfilled," added Salter.

The business, which is privately funded by Salter and four other investors, is also launching a TV advertising push for the brand. The animated ad will break on Muslim lifestyle channel British Muslim TV on 1 August under the strapline 'A world of variety'.

Muslim parents, in particular, found it difficult to find suitable halal meat food products that would not compromise their religious beliefs, said For Aisha consultant dietician Sajida Manzoor. "They become reliant on vegetarian or dessert options, and this lack of choice can lead to infants to miss out on vitamin D and iron found in meat-based products," she added.

Norwegian halal babyfood brand Nasim's made its UK debut last year with two infant formulas and five meal pots.