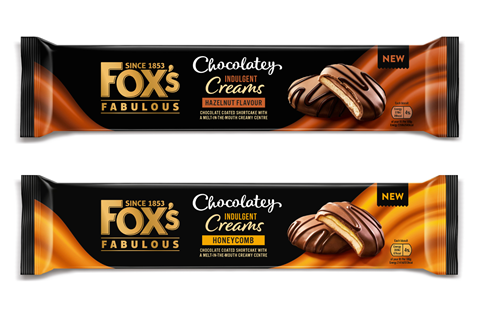 Fox's has expanded its Chocolatey range with a duo of biscuit SKUs with creamy centres.
Called Indulgent Creams (rsp: £1.75/130g), the biscuits have launched in Honeycomb and Hazelnut variants.
They feature a shortcake biscuit base, topped with the creamy honeycomb or hazelnut filling, and are coated in milk chocolate.
The NPD was "perfect for the big night in occasion, where shoppers look for a little luxury", said Fox's.
Both variants have rolled into Tesco.
"Fox's Chocolatey has long been seen as a premium offering within the sweet biscuit category," said Fox's trade marketing director Colin Taylor.
"We are taking that one step further with our Fox's Fabulous Chocolatey Indulgent Creams, offering consumers adventurous new flavours and textural layers, stretching the premium offering."
The launch will be supported by an advertising push across TV, social media and in-store activations from October.
It comes after Fox's saw value sales of its biscuits increase by 25.2% to £112.3m on volumes up 15.1% in the year to 31 December 2022 [NIQ].
The brand's performance was driven by sales of its Fox's Rocky, Fabulous Cookies and Fabulous Chocolatey Rounds ranges. Fabulous lineups were supported by above-the-line activity, while a new salted caramel variant for Chocolatey Rounds made almost £2m.