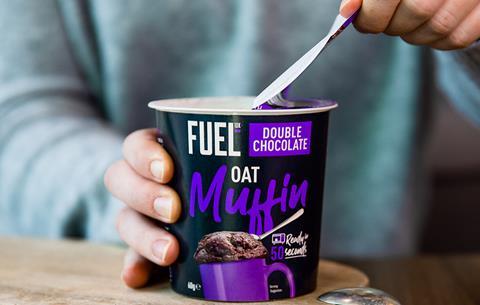 Protein brand Fuel10K has claimed a UK first with its latest breakfast innovation – an instant oat muffin in a plastic pot.
Available in Double Chocolate and Banana & Chocolate (rsp: £1.49/70g), each 100g provides at least 15.7g of protein and no more than 9.3g of sugar – 70% less sugar than an average home-bake muffin from a mix, according to Fuel10K.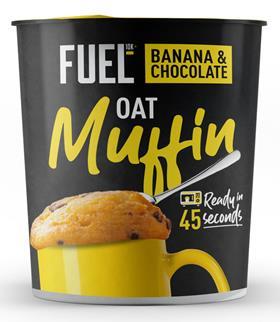 Made with whey protein, Breakfast Oat Muffin is a similar concept to mug cake mixes like Dr Oetker's Pud in a Mug. It is prepared by adding water and microwaving for 45-50 seconds.
The launch came in response to shoppers "demanding more and more convenience during their morning repertoires" said Fuel10K co-founder & head of innovation Jason Kerr.
"This is a perfect complement to our on-the-go range of breakfast drinks and porridge pots by offering something healthier, quicker and a bit different for consumers who are short on time and inspiration."
Both Breakfast Oat Muffin variants will be available from 18 November in 430 Tesco stores, supported by an integrated digital campaign offering free samples and serving suggestions.
It comes as Fuel10K is increasing its presence in Tesco by around 60%. The brand's Chocolate Granola has made its debut in Tesco Express, becoming available in more than 1,500 stores. The brand has also secured new Tesco listings for its Fruit Loaded Granola and Salted Caramel porridge pot.
In the summer, Fuel10K entered the burgeoning 'future food' category, taking on the likes of Huel through a direct-to-consumer offer called The Complete Meal – a powered shake "packed with complex carbohydrates, wholegrain oats and flaxseed".