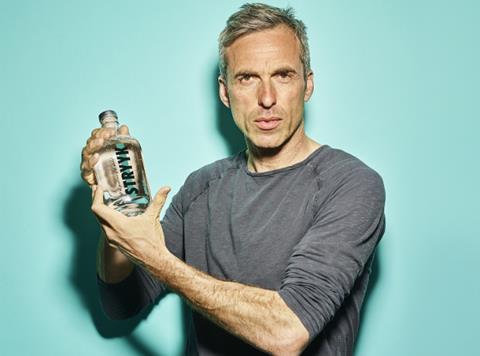 Alex Carlton, the man who created Funkin cocktail mixers, is taking on the likes of Seedlip in the no-alcohol spirits market.
He has unveiled Stryyk, a "flavour-driven and stylish" zero-proof brand, in two variants: Stryyk Not Gin and Stryyk Not Rum (rsp: £14.49/70cl).
Distilled and bottled in the UK, Not Gin combines juniper, rosemary and basil, while Not Rum features clove, oakwood and grapefruit. Both have neither sugar nor artificial flavours but include capsicum and chilli to create heat that mimics alcohol 'burn' in the throat.
"That's something we're pioneering in the spirits category," said Carlton, who expected Stryyk (pronounced 'strike') to be in "one of the main five multiple grocers" in the final quarter of the year.
The "mainstream" brand's aim was to make "sobriety acceptable, simple and not anti-social" he added.
"With the new generation of party-goers choosing to drink less alcohol and sometimes none at all, Stryyk offers a zero-proof spirit which enables them to enjoy the drinks they love and stay in the moment, without compromising on taste, experience or calories."
Other variants are in the pipeline, with the "game-changing" Not Vodka to arrive soon. To mimic the neutral spirit, Stryyk had replicated the "dirty alcohol smell" using botanicals such as menthol, cucumber and citrus, said Carlton, who sold Funkin in 2015 to AG Barr.
His new brand – created through his Elegantly Spirited company – comes after Pernod Ricard this month rolled out a "gin alternative" brand called Ceder's to rival no-alcohol spirit brand Seedlip.