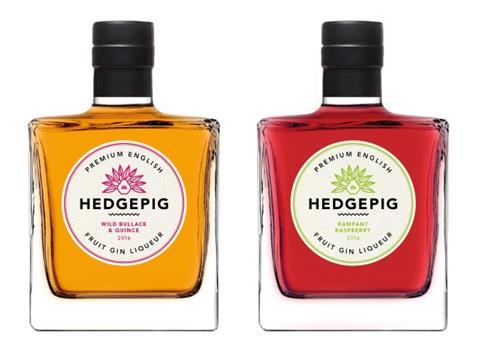 Pinkster Gin owner Ginmeister has unveiled a new range of trendy gin liqueurs called Hedgepig.
It has launched two variants, Wild Bullace & Quince (30% abv) and Rampant Raspberry (33% abv), and plans to expand the range with three more over the next year. They are priced at £40 for 50cl.
The NPD heralded "the start of an exciting new development for the business" said Ginmeister MD Stephen Marsh. "The thinking behind the brand is limited seasonal bottlings and quirky, quality ingredients all packaged up with eye-catching design. We'll go easy on sugar levels and the abv will be on the higher side."
Wild Bullace & Quince is "a versatile, subtly sweet" tipple, with Suffolk quince and bullace foraged in East Anglia, while Rampant Raspberry is produced with raspberries from Cambridge's Sunclose Farm, from which the brand also sources raspberries for Pinkster.
"When we launched Pinkster, pundits said we were crazy attempting to make gin with wet fruit," said Marsh. "Well, I like to think we have confounded the cynics, and now we're committed to offering discerning drinkers other adventurous fruity tipples."
It would be targeted at independent retailers, delis and farm shops through to larger groups, said the brand.
The addition of Hedgepig follows the launch of Pinkster Gin into 35cl bottles in the summer.