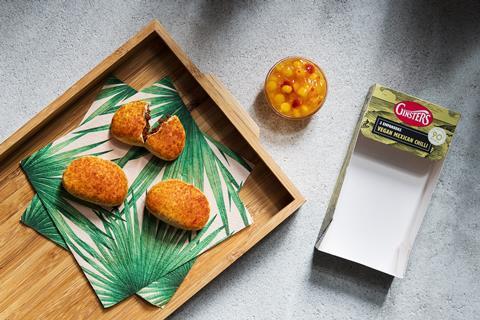 Ginsters has boosted its range of vegan pastries with a new Mexican empanada.
The empanadas use Gold&Green Foods' Pulled Oats – a new brand of meat-style protein made from oats, pea and faba bean, which hit the UK earlier this year – in place of meat.
The Pulled Oats are combined with piquanté pepper and ancho chilli as well as a "Mexican-style" sauce inside the pastry, and are finished with a smoked paprika topping.
The choice to use Pulled Oats marks a change from Ginsters' previous vegan releases, such as its recently launched peppered steak slice, sausage roll and pasty, all of which were created in partnership with meat-free giant Quorn.
Pulled Oats are claimed to have a "unique, fibrous texture which absorbs flavours well and can be spiced to perfection", by Gold&Green.
They were "completely free from additives and is tipped to be the next UK food trend, having already taken Finland and Sweden by storm", added Ginsters.
Andrew Ely, launch manager at Gold&Green Foods, said the brand was "incredibly excited to team up with another forward-thinking brand to bring Pulled Oats to the UK and showcase the versatility of savoury pastry".
The empanadas rolled out into savoury pastry aisles and front of store fixture this week in packs of two and three (rsp: £1.50-£2).