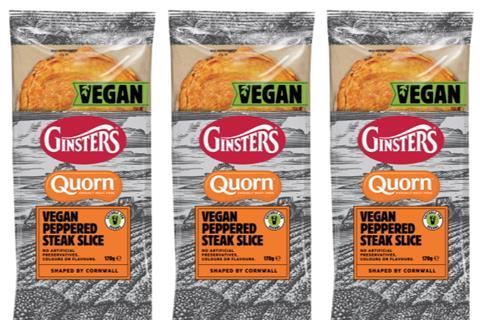 Ginsters has teamed up with Quorn to launch a vegan version of its peppered steak slice.
The new slices are made by combining marinated Quorn pieces with onions and potatoes in a "classic" peppercorn sauce of peppercorns, garlic and Dijon mustard, encased in puff pastry and finished with coconut milk.
The snacks, which can be eaten hot or cold, will roll out into the mults from 12 October (rsp: £1.70/170g).
With no similar vegan slices currently on the market, Ginster's claimed the NPD had the potential to "attract 6.9 million new pre-family shoppers to the category".
It's the third launch the two brands have partnered on – they rolled out vegan Quorn pasties and sausage rolls earlier this year.
"We want to set out a blueprint for innovation and growth within chilled savoury pastry," said Ginsters MD Kieran Hemsworth, adding growing its meat-free offer was "critical to driving trial".
"Consumers want to try meat free and are more inspired to do so with a flavour they know and love."
Meat-free isn't the only area Ginsters is focusing on. June saw the brand unveil a duo of posh deep-filled pork rolls offering a "deli-style" twist on the pub classic, inspired by "artisan savoury pastry".