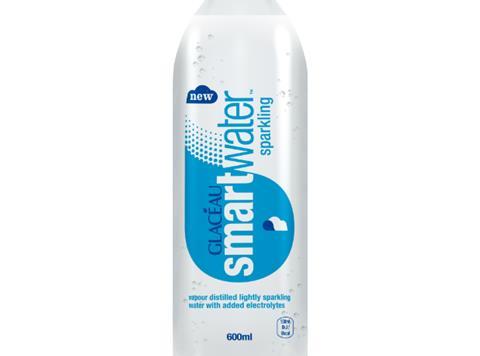 Coca-Cola European Partners hopes to disrupt and grow the sparkling water category with the launch of a lightly effervescent variant of its Glacéau Smartwater - the biggest move for the brand since its launch in 2014, according to the soft drinks giant.

With Glacéau sales "moving quickly", this was the right time to be launching a bubbly variant, said CCEP GB operational marketing director Caroline Cater. The fortified water brand has seen its value sales shoot up 64.6% to £33.3m in a category currently worth £982.7m [IRI 52 w/e 30 January 2016]. But sparkling was an "under-developed" area of the bottled water market at only 15%, she added. "There's definitely more growth to be had."

The NPD was filling an "obvious gap" in a bottled water market in which 27% of shoppers bought only sparkling, according to Cater. "Smartwater has always been very disruptive and had strong standout, so it'll perform very well in the sparkling category." CCEP was targeting an 8% share, she added.

Available from November in a 600ml PET bottle and a 6x600ml multipack, Glacéau Smartwater Sparkling comprises vapour-distilled spring water with added electrolytes and 'just the right amount of carbonation'.

Light blue detail on its packaging will differentiate it from the original variant. The packaging had always been one of the brand's main standouts for consumers, Cater claimed, along with its focus on taste, while other bottled waters shared similar positioning around provenance.

The NPD's launch will be supported in the next stages of part of Smartwater's £10m, two-year communications strategy that began in the spring of 2016, with the brand's outdoor advertising campaign now set to highlight both versions of the water - which are targeted at young, busy adults in urban areas.