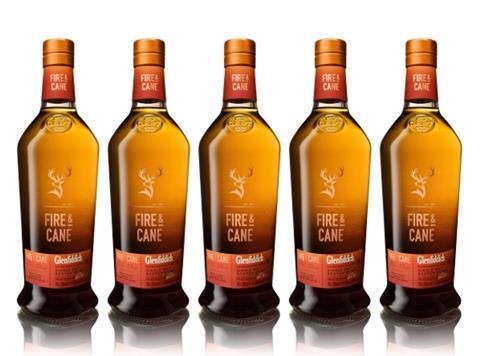 Scotch whisky brand Glenfiddich has unveiled Fire & Cane, a peated malt, as the latest of its Experimental series.
The 43% abv tipple is a blend of peated and non-peated malts matured side-by-side in bourbon casks, which is then finished in Latin rum casks "to produce a surprising and unexpected overlay of flavours with added caramel toffee sweetness".
It will roll out in the US this month, with a UK launch to follow in October. Its rsp is yet to be revealed, but retail prices for previous releases in the Experimental series range from about £40 to £199.
Fire & Cane "truly encapsulates the spirit of experimentation" said Glenfiddich malt master Brian Kinsman. "We started with a question: what would happen if we did something with peat that we had not done before?
"During the tastings, some experience the unusual smoky notes, while others tasted toffee flavours. This phenomenon can be attributed to the Scotch spending three months in sweet rum casks."
The NPD comes in a glass bottle with a graduated tint. It is clear around the neck but black at the bottom to "showcase the juxtaposing flavours physically with the shift in colour".
Fire & Cane is the fourth Experimental whisky from Glenfiddich. Previous launches comprise IPA Experiment, which is aged in IPA casks, Project XX, which saw whisky experts given free rein to choose from a wide variety of malts from the brand's stocks, and Glenfiddich Winter Storm, a 21-year-old malt aged in sweet French icewine casks.
It comes as value sales of Glenfiddich have risen 10.9% (£2.9m) over the past year to £29.1m. IPA Experiment was the brand's third bestselling SKU, contributing £350k of that growth [Nielsen 52 w/e 21 April 2018].