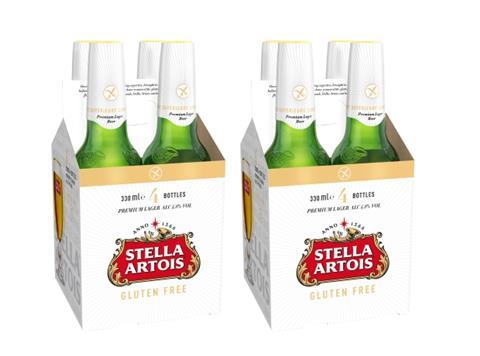 Sales of gluten-free beers have more than doubled this year, sailing past the £10m mark on the back of Britain's free-from explosion.
Brits splashed out an extra £5.9m on gluten-free beer over the past 12 months, Kantar data reveals, bringing the young category's total value to £10.7m. That's a whopping 122.4% increase, the equivalent of an extra 1.5 million litres drunk or a volume increase of 134.6% [Kantar Worldpanel 52 w/e 17 June 2018].
It comes as Stella Artois this week became the latest big beer brand to enter the gluten-free market, unveiling a gluten-free version of the lager. Verified by Coeliac UK, the NPD will roll out into grocery late next month in 4x330ml packs, before a wider rollout in the autumn.
The beer has the same abv (4.8%) as standard Stella, with gluten removed "through the use of a specific protein without altering the unique taste" according to the brewer.
The NPD would be placed outside traditional BWS aisles, said AB InBev, and would drive "brand visibility and incremental sales".
Many retailers, including Tesco, have already rolled out gluten-free beer fixtures over the past year, many of which are placed next to free-from foods rather than in the BWS aisles.
Stella certainly isn't the first beer brand to launch a gluten-free spin-off. San Miguel, Peroni Nastro Azzurro, Estrella Damm, Tennent's, Greene King's Old Speckled Hen, BrewDog and Cobra have already introduced lines.
Peroni Nastro Azzurro is the category leader so far. Supermarket value sales of its gluten-free brew, which launched in February 2017, have hit £3.9m. Others such as San Miguel Gluten-Free and Old Speckled Hen Gluten-Free are yet to pass the £1m mark [Nielsen 52 w/e 21 April 2018].
Stella Artois retained its spot as the UK's bestselling alcohol brand with value sales of £533.3m over the past 12 months, as revealed in the The Grocer's Britain's Biggest Alcohol Brands report this month.
The core lager added a whopping £29.9m to its value, growing to £514.8m. However, the overall brand's growth was slowed by poor performances for Stella 4%, which had nearly half its value wiped away, falling £8.6m to £9m, and the Stella Cidre portfolio, which lost £13.3m [Nielsen 52 w/e 21 April 2018].