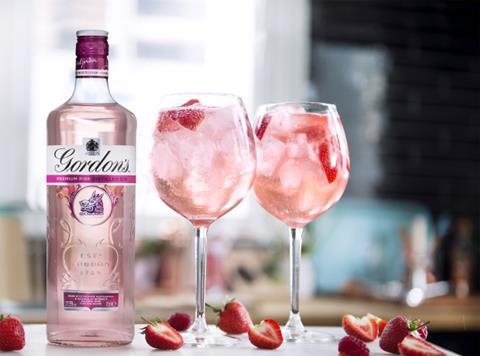 Diageo has launched a pink variant of its flagship gin brand Gordon's.

Gordon's Pink has rolled out with an abv of 37.5% (rsp: £16.50/70cl). Its launch is being backed by a £2m push including targeted OOH, PR, digital and social media under the 'Shall We?' banner, which launched late last year.

The new tipple combined "the sweetness of raspberries and strawberries with the tan of redcurrant, using only natural flavours" said Diageo.

"We are entering a vibrant sub-sector," said Diageo head of Gordon's, Annalisa Tedeschi. "In Spain, pink gin is a growing trend which accounts for 36% of all value growth within the total gin category, demonstrating a huge opportunity for success."

The NPD comes as competitor Pernod Ricard plans to launch a pink variant of its Beefeater gin in the coming months. The French spirits giant has moved its three leading gin brands - Beefeater, Plymouth Gin and Seagram's - to a new Gin Hub business division helmed by former Chivas Brothers marketing director Sophie Gallois.