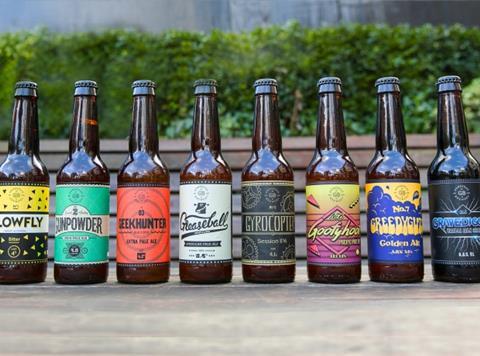 North London craft brewer Gorgeous Brewery has launched its first retail-ready range of eight beers.
The range, brewed at the Gorgeous base in Highgate consists of: Glowfly, a 4% abv bitter; Gunpowder, a 4.8% abv IPA; Geekhunter, a 4.2% abv extra pale ale; Greaseball, a 5.4% abv APA; Gyrocopter, a 4.1% abv Session IPA; Goofyhoof, a 4.6% abv Pacific pale ale; Greedyguts, a 3.5% abv Golden Ale; and Gravedigger, a 5% abv vanilla milk stout.
All barring Gravedigger are vegan, unfined and unfiltered.
The range had been designed to "meet the increasing demand for good quality beers from small batch brewers", said Gorgeous founder Rob Laub. "We have designed the beers to ensure that the range encompasses something for every beer drinker and for every occasion, based on what we would enjoy drinking."
The brewery itself, which is based behind The Bull pub in Highgate, recently upgraded from two to five barrels. The brand is currently available in indies across north London and was "in talks to secure further distribution throughout London and the rest of the UK", it said.